The LRT 2 or Light Rail Transit Line 2, known popularly as the Megatren is a rapid transit line in Metro Manila, Philippines.
Also known as Purple Line, it primarily runs from west to east with access to the cities of Manila, San Juan, Quezon City, Marikina, Pasig. In 2021, the line extended outside Metro Manila to Antipolo, Rizal.
What are the stations of LRT 2? Get to know the route of this line to help you in your trip.
Recto Station LRT 2
Recto LRT 2 Station is the western terminus of the line and located on Recto Avenue near the districts of Quiapo and Santa Cruz in Manila. It is near the Quiapo Church, schools, colleges, and universities. This is the station you need to alight if you need to connect to LRT 1 station in Doroteo Jose.
Due to its convenient location, the area is thriving with a number of businesses ranging from hotels, lodge, motels, diner, eateries, stores, and malls – most within walking distance of the train station. This is the busiest station along the railway line.
Landmarks
Isetann Cinerama Recto
University Belt
QQ Mall Quiapo
Odeon Terminal Mall
Tutuban
Arranque Market
Cartimar Manila Shopping Center
Fabella Memorial Hospital
Divisoria
Manila City Jail (Bilibid Viejo)
Manila Grand Opera Hotel
Raon Shopping Center
Puregold
Saint Stephen's High School
Chiang Kai Shek College
Philippine College of Health Sciences
STI College Recto
Access Computer College-Manila
Arellano High School
Philippine College of Criminology
University of the East (UE)
Far Eastern University (FEU)
Quiapo Church
LRT 1
Legarda Station LRT 2
The station is located in Sampaloc, Manila, and was named after the Legarda Avenue which is nearby. It is near the university belt with several big schools, colleges, and universities.
Landmarks
Legarda Street
Mendiola Street
San Sebastian College
University of the East (UE)
Centro Escolar University (CEU)
San Beda University
Samson College of Science and Technology
National Teachers College
College of the Holy Spirit
Arellano University
La Consolacion College
Victorino Mapa High School
Sampaloc Public Market
St. Anthony of Padua Shrine
Gothic Basilica of San Sebastian
Our Lady of Loreto Parish
San Miguel District
Malacañang Palace
Pureza Station LRT 2
Pureza Station is located in Santa Mesa, Manila and is so named because it is located near Pureza Street.
Landmarks
Polytechnic University of the Philippines (PUP)
De Ocampo Memorial College
AMA Computer College Manila Campus
Pio Sacred Heart of Jesus Parish and Catholic School del Pilar Elementary School
Eulogio "Amang" Rodriguez Institute of Science and Technology (EARIST)
The Station Point
Nuestra Señora de Salvacion Parish
Puregold Jr. Pureza
Savemore Market
University of Santo Tomas
AB Liner Inc
Pasig River Ferry Service
Philippine National Railways
V. Mapa Station LRT 2
V. Mapa Station is also known as Santa Mesa Station. It serves the Santa Mesa, Manila, San Juan, Quezon City, areas. The station is located near the intersection of V. Mapa Street in Santa Mesa, Manila.
Landmarks
SM City Sta. Mesa
Central Colleges of the Philippines
University of the East Ramon Magsaysay Memorial Medical Center (UERM)
Immaculate Heart of Mary College
Mezza Residences
J. Ruiz Station LRT 2
The station is located in San Juan and was named for its location on J. Ruiz Street. It is San Juan's only train station and is located near the Quezon City border before entering Manila.
Landmarks
N. Domingo Street
San Juan City Hall
Pinaglabanan District
San Juan Medical Center
Pinaglabanan Shrine
St. John the Baptist Church
Gilmore Station LRT 2
Gilmore Station is located near Gilmore Avenue in Quezon City in Mariana, Quezon City.
Landmarks
Saint Paul University Quezon City
Saint Joseph's College of Quezon City
St. Luke's Medical Center
Robinsons Magnolia
SYKES Asia, Inc. (K-Pointe site)
Aurora Garden Plaza
Gilmore I.T. Center
San Juan and Greenhills Shopping Center
Broadway Centrum
Sen. Jose O. Vera Street (Granada Street)
Our Lady of Mount Carmel Parish
Xavier School and Immaculate Conception Academy-Greenhills
Trinity University of Asia
Betty Go-Belmonte Station LRT 2
Beti Go Belmonte Station is in New Manila, Quezon City and is named after Beti Go Belmonte. This station is considered one of the least-used on the line.
Landmarks
Holy Buddhist Temple
Cubao Cathedral
Religious of the Virgin Mary Motherhouse
Kalayaan College
Araneta Center–Cubao Station LRT 2
Araneta Center Cubao Station, or simply Cubao Station, is in Cubao, Quezon City and named after the old name of Araneta business district.
Araneta Center-Cubao Station is considered as a main terminus of this line and one of the busiest station in LRT 2.
If you need to transfer to MRT 3, this is the station you need to alight.
Landmarks
Araneta City
Gateway Mall
Ali Mall
Farmers Plaza
Araneta Center Complex
Smart Araneta Coliseum
Project 5 Barangay E. Rodriguez
Diamond Arcade
Cubao Elementary School
MRT 3
Anonas Station LRT 2
Anonas Station is located in Cubao, Quezon City and named for its proximity to Anonas Street.
Landmarks
Technological Institute of the Philippines
Saint Joseph Catholic School
Saint Joseph Parish
World Citi Medical Center
Hi-Top Supermart
Anson Supermart
Anonas City Center
Katipunan Station LRT 2
Katipunan Station is located on Katipunan Avenue, one of Quezon City's main thoroughfares. The street is named after the revolutionary group Katipunan.
The train station is located at Loyola Heights in Quezon City. It is the only station underground on the entire line.
Landmarks
Katipunan Avenue
Philippine School of Business Administration
Ateneo de Manila University
Miriam College
University of the Philippines Diliman
Santolan LRT 2 Station
Santolan station is on the Marikina-Infanta highway in Marikina, near the Pasig border. From 2003 to 2021, the Santolan station was the eastern terminus of the line. It is the only station on this line that has an island platform.
Landmarks
Marikina River
BFCT East Metro Manila Transport Terminal
College of Arts and Sciences of Asia and the Pacific Marikina
Bali Oasis
SM City Marikina
Riverbanks Center
Marikina Station LRT 2 – Marikina Pasig Station
Marikina Pasig Station is near the three-point boundary between Pasig, Metro Manila, and Cainta, Rizal.
The station is located on the Marikina-Infanta Highway section near the intersection of Felix Avenues and Gil Fernando.
This line is the last stop in Metro Manila before heading to Antipolo. This one of the new new LRT 2 stations
Landmarks
Sta. Lucia East Grand Mall
Robinsons Metro East
Ayala Malls Feliz
Sta. Lucia Residences
Barangay San Roque in Marikina
S&R Marikina
Marquinton
Marikina Sports Complex
Gil Fernando Avenue
APT Studios
Tropicana Garden City
Blue Wave Mall
Marikina City Hall
Sienna Tower Residences
Marcos Highway
Antipolo Station LRT 2
Antipolo Station is located in Antipolo, Rizal and is the eastern terminus of the line. The easternmost station on the line, which opened on July 5, 2021, is a new LRT 2 station and is located near the Sumulong Expressway junction of the Marikina Infanta Expressway. This is the first station on the LRT system outside of Metro Manila.
Landmarks
SM City Masinag
City Proper of Antipolo
Diocesan Shrine and Parish of St. Therese of the Child Jesus
Cornel Medical Center
Metro Antipolo Hospital and Medical Center
East Gate Business Center
Vermont Park Executive Village
Kingsville Executive Village
Golden Meadows Executive Village
Filinvest East Homes
---
LRT 2 FAQs
Here are some of the common queries by commuters on LRT 2 Stations
What are the LRT 2 Fares?
Following is a table of LRT 2 Fare Matrix.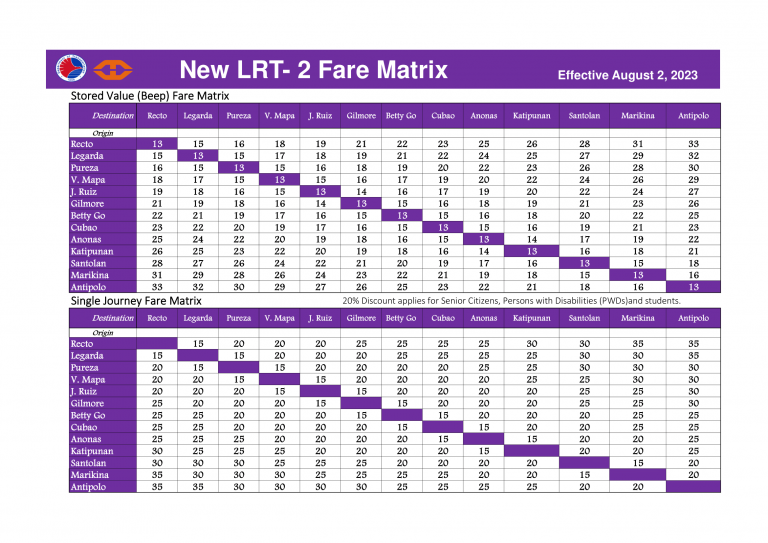 How to go from LRT 2 to LRT 1?
If you're coming from LRT 2 and need to go to LRT 1, you can do so via 'Recto LRT 2 Station', then to 'Doroteo Jose LRT 1 Station'.
There's no direct lrt 1 and lrt 2 connection, so you need to walk to LRT-1 Doroteo Jose Station.
How to go from LRT 2 to MRT 3?
If you need to go to MRT 3 station, you need to alight at the Araneta Cubao LRT 2 Station. You need to enter the connection on the Gateway Mall and then walk towards the pathway to Farmer's Plaza which has a connection to MRT 3 Araneta Station.
What's the LRT 2 last trip – LRT 2 closing time?
LRT 2 have different schedules on weekdays, weekends and on some holidays.
From Mondays to Fridays, the last trip is usually on 10pm.
On Saturdays and Sundays, the closing time is mostly at 9:30pm.
On holidays, the last train is usually at 9:30pm, though there are occasions they change the time or don't operate for maintenance. They post the schedules for specific holidays on the LRT 2 stations itself or on their official Twitter account: https://twitter.com/OfficialLRTA.