Are you looking to get a Unified Multi-Purpose ID? Getting a UMID has a lot of benefits and can help your transactions as it's a valid government ID accepted in different agencies, commercial establishments.
Well, first, what is UMID?
The UMID card is 4 in 1 in terms of functionality, where it can be used by Filipinos for their transactions in the following four government agencies :
PhilHealth
Social Security System (SSS)
Pag-IBIG Fund
Government Service Insurance System (GSIS)
Why Get a UMID?
The UMID is one of the most widely recognized and accepted as a valid ID card from the government. It's the most commonly asked ID for inter-agency transactions, both government and private establishments.
For workers, who need to get work requirements, one of the mentioned agencies usually provides booths for processing the UMID card.
However, if you're a new worker, student, or fresh graduate, you may not know where to start and how to get a UMID.
If you're hoping to apply for a UMID card, here are the things to remember before you go with your application for the UMID card.
You Need To Do This Personally
At the moment, nothing has been said if there will be an online UMID application process. There are application forms available online, but you still have to go personally.
I recommend that you just go personally to save from printing paper, or in case you have questions in filling out the form.
Remember that asking someone or a representative to apply for you is not allowed.
Apply for the ID personally by going to any GSIS or SSS office. This could be an issue for those who are busy in their schedule in class, work, business, or family life.
If you're an OFW, you can go to the Philippines embassy of the country you're working to inquire about the application process for a UMID.
The government does this to affirm your identity and ensure you only get one card.
You should be there to have your photograph, computerized signature, and fingerprints taken. No other method to do than showing up for your UMID ID application.
Ensure You Meet All UMID Requirements
There are prerequisites for the UMID card. UMID cards are free for first-time applicants who meet these criteria:
No current SSS ID or UMID card
Paid one-month SSS contribution
Valid date of inclusion (the date you began as a SSS member on record)
The individuals who need to change or lost their old ID should pay a replacement charge of PHP 200 to the SSS branch where they'll apply for a UMID card
Documents Required for UMID card
For SSS members:
Completed SSS UMID card application form
Original or authenticated duplicate of the accompanying: passport, driver's permit, Professional
Regulation Commission (PRC) card, or Seaman's Book.
For GSIS members:
Completed GSIS UMID Card form
Two valid government IDs (e.g passport, voter's ID, driver's permit, PRC card.)
Applying for UMID Card
SSS is the primary office that issues UMID cards to private workers, while GSIS issues the UMID to government workers. So if you work in a private company, you need to apply for your UMID card application at an SSS branch. If you work in the government, apply at a GSIS branch.
If you are both SSS and GSIS members, you can inquire about which is the most active. Better yet, you can inquire about a SSS or GSIS office convenient to where you live or work.
UMID Card Application Steps for SSS and GSIS Members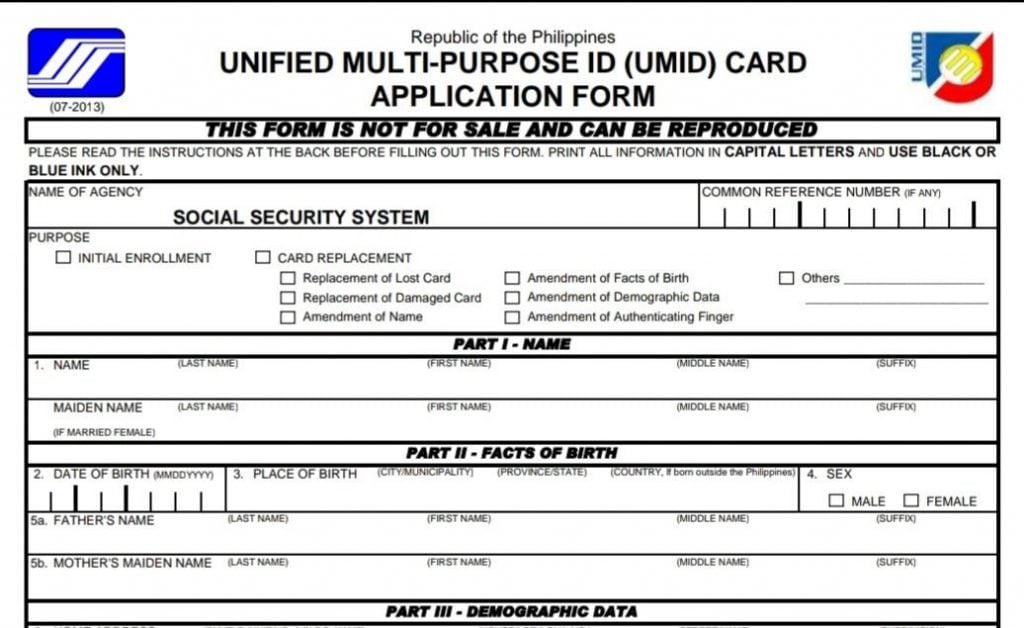 Following are the steps to get a UMID card for SSS and GSIS.
Fill out the UMID Card application form.
Be sure to read the directions on the page of the UMID form. There need to be no deletions or errors. When you're set, check the form to guarantee you've done it correctly:
Fill out all fields accurately.
Provide one contact detail (phone number or email address.)
Provide your permanent address, not a temporary address.
Submit your form and documents to the closest SSS branch.
Not all SSS branches have the office to process UMID applications. However, to know the closest branch where you can apply for a UMID card, look at the following SSS branches with UMID processing offices.
Have your photo, fingerprints, signature taken.
After the SSS staff checked and confirm your records, you'll be asked to go in front of the computer with a camera to take your photo for the ID. They will then ask you to have your fingerprints taken.
UMID features a digitized signature on the cards, then you must sign your signature on a tablet using a computerized pen. Signing a signature using the digitized pen might take several tries as I did since it's not the same using pen and paper. The officer will make you try as many times as possible until it's close to your actual signature on the form.
Pay the UMID card fees.
In case you're replacing your old SSS ID or updating your UMID card, you must pay a PHP 200 in SSS accredited banks. You need to present a notarized affidavit (for a lost card).
In case you're applying for a brand new UMID card, you need not pay anything. New UMID card applications are free for first-time applicants.
Wait for your UMID card to be delivered to your home.
As per SSS, you'll receive your UMID card within 30 days from the application. After processing your application, SSS will release your UMID in 8-10 days,
They will then deliver the ID through Philpost or the local post office. The delivery usually takes around 2-3 weeks if you're from Metro Manila and could take 1-2 months if delivered to the province.
Activate your UMID card
This will enable you to use your UMID to check your SSS records, contributions, benefits, and loans among many other services. The activation of UMID can be done by visiting an SSD branch or satellite office.
You Can Follow Up on Your UMID Status
If it's already over 3 months and you still haven't received your UMID, you can follow up and check the status of your card in the following ways :
Send a private message to the SSS Facebook page
Send an email request to sss_id@sss.gov.ph
Call the SSS Call Center at 920-6446 to 55
Provide your complete name, SSS number, birth date, and application date when checking your UMID status.
You Can Apply for a UMID ATM card
Yes, there's already a UMID ATM card. SSS started giving UMID ATM cards in 2017 to allow the withdrawal of advances and pensions much simpler.
Unionbank is the only bank (as of this writing) to give these ATM cards. However, as per SSS, they're working on ways so its members can apply in more banks.
To apply for a UMID ATM card, just show your UMID ATM enrollment form in SSS that processes ATM cards. At the moment, these are the following Unionbank branches that process UMID ATM cards.
Pioneer
Manila
Diliman
Buendia
Baguio
Cebu
Davao
Beware of UMID Scams
SSS is cautioning people on scams regarding UMID card applications.
With the difficulty in going to SSS/GSiS branches amidst the traffic in the metro, waiting in very long lines of applicants, and waiting for a month or so just to get UMID card, officials from SSS/GSIS warn of scams that may target Pinoys who wanted to get UMID cards fast.
SSS has cautioned its members about any fixers or individuals that pose as staff of SSS/GSIS that offers help in accelerating UMID card applications in return for money.
There is no such thing as "rush processing" of UMID cards.
If you get any message from text, email, Facebook or other means, just ignore it or better yet report to SSS/GSIS Facebook page or their hotline.
SSS – +63-1800-10-225-5777
GSIS – +63-2-847-4747
Getting a UMID card is a direct and personal procedure. It will truly test your patience.
As it is, as soon as you get the UMID card, it will facilitate any transaction that you need to do with ease.